The Hits: Chapter One

Released:

October 24, 2001

Length:

65:03

Producers:

Various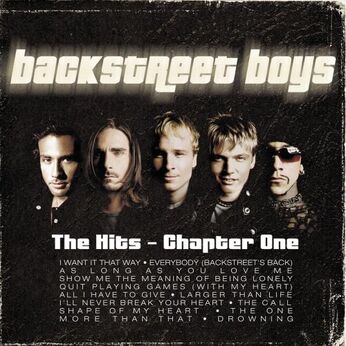 The Hits: Chapter One, also known as Greatest Hits: Chapter One internationally, is the first greatest hits compilation released by American band, the Backstreet Boys. The album features fifteen of the group's classic hits, as well as one new song, "Drowning". Drowning was the album's only single, peaking at #4 on the UK Singles Chart and making the top 10 in most countries. A video album, featuring all of the videos from the release, was made available around the same time as the album. As of 2002, the album sold nearly six million worldwide.
Track Listing
Edit
Everybody (Backstreet's Back) [extended version]
Quit Playin' Games (With My Heart)
We've Got It Goin' On
Larger Than Life
I'll Never Break Your Heart
The Call
The One
Get Down (You're The One For Me)
Anywhere For You
More Than That
The group resisted the release of this album as they felt it was too early in their career for such an album. It would also ruin their plans to mark their 10th aniversary with a greatest hits release in 2003. "Our management company was supportive and we weren't. And the record company was going to put it out anyway. So it's either promote, or fight with your label, don't promote it and risk it doing very badly. But ultimately, who is it that's going to get hurt? It's not going to hurt our label. It's going to hurt us," Backstreet Boys member Kevin Richardson said.