Unbreakable

Released:

October 24, 2007

Length:

48:50 (Excluding Bonus Tracks)

Producers:

Dan Muckala, Rob Wells, Emanuel Kiriakou, Adam Anders, John Shanks, Billy Mann, JC Chasez, Neff-U, Kara DioGuardi, Mitch Allan, David Hodges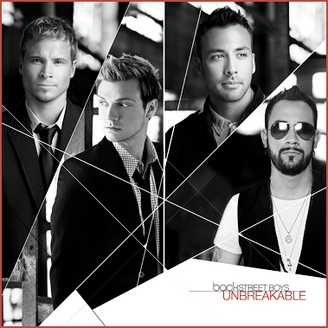 Unbreakable is the Backstreet Boys' seventh studio album, fifth in the United States. It was released on October 24, 2007 in Japan and October 30 in the United States by Jive Records.
Track Listing
Edit
Intro
Everything But Mine
Inconsolable
Something That I Already Know
Helpless When She Smiles
Any Other Way
One In A Million
Panic
You Can Let Go
Trouble Is
Treat Me Right
Love Will Keep You Up All Night
Unmistakable
Unsuspecting Sunday Afternoon
Downpour [Bonus Track]
In Pieces [Bonus Track]
Nowhere To Go [Bonus Track]
Critical Response
Edit
"Unbreakable" received generally favorable reviews from most music critics. At Metacritic, which assigns a normalized rating out of 100 to reviews from mainstream critics, the album received an average score of 56, based on 8 reviews, which indicates "mixed or average reviews". Bill Lamb from About.com gave the album 4 out of 5 stars, praising "the incomparably lush harmonies and instantly pleasing melodies" and calling the songs "radio friendly." Lamb also wrote that the band "have settled into a comfortable place as an adult vocal group" and named the album "a pure pop pleasure." Tammy LaGorce from Amazon.com wrote that the album "boasts Super Glue-strength harmonies and an overall tightness of sound" and that "the music is more thoughtful and mature than ever." The Reviewer from Yahoo! Voices wrote that "the boys are back with an undeniably strong album and the songs on the album fit the group incredibly."
This marks the first album released by the Backstreet Boys without Kevin Richardson, who left to pursue other interests.
Unlike previous Backstreet Boys albums, this album features no collaborations with longtime producers and friends Max Martin and Kristian Lundin who had worked on the group's previous albums.
Rumored titles of the album included End to Beginning, Picking Up the Pieces, and Motivation before Brian Littrell and A.J. McLean confirmed on August 13, 2007 that the title of the album would be Unbreakable.